Treating Postherpetic Neuralgia with Ketamine
What is Postherpetic Neuralgia?
Pain that persists long after shingles have healed is called post-herpetic neuralgia.
About 20% of those who experience shingles will also get post-herpetic neuralgia. Seniors (those over the age of 50) are the most vulnerable. The most common complication of shingles is post-herpetic neuralgia. Symptoms of shingles, such as a rash and blisters, go away, but the intense burning from the condition's effect on nerve fibers and skin persists.
Post-herpetic neuralgia is typically resolved within a year for the vast majority of patients. However, in rare cases, symptoms can persist for a lifetime. Many patients have begun to treat their cases of post-herpetic neuralgia with Ketamine therapy in Florida. Contact New Horizon Clinics today to see if ketamine treatment may be a viable option for you or your loved ones suffering from post-herpetic neuralgia.
Symptoms of Postherpetic Neuralgia
Post-herpetic neuralgia is characterized by recurrent or persistent nerve pain in a skin location previously afflicted by shingles, typically a band around your abdomen on one side of your body.
The discomfort could be intermittent or persistent. It can feel like an electric shock, a burning sensation, a stab, a shooting pain, an ache, or a throbbing pain. In addition, the region may also experience: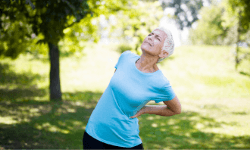 Itching
Numbness
Sensitivity 
Ongoing pain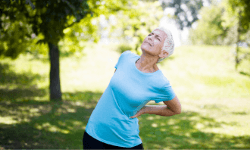 Causes of Postherpetic Neuralgia
Chickenpox and shingles are caused by the varicella zoster virus. In post-herpetic neuralgia, inflammation of the nerves just beneath the skin is caused by the virus. Pain in a nerve is referred to as neuralgia in medicine.
Age, pain at the early stage of shingles, and severe pain during an episode of shingles are all associated with an increased risk of developing post-herpetic neuralgia, although the exact mechanism by which this occurs is unknown.
If you or a loved one suffers from post-herpetic neuralgia, contact an experienced Florida ketamine doctor today and see if ketamine can help you!
What is Ketamine?
Ketamine, a medication licensed by the FDA for general anesthesia, has shown significant antidepressant benefits in off-label trials for patients undergoing Ketamine IV Therapy. This treatment, which is administered over the course of 50 minutes at a lower dose than that used for anesthesia, has the ability to alleviate depressed symptoms in a sustainable manner. Get in touch with a Florida Ketamine doctor right away if you think Ketamine therapy could benefit you or a loved one.
How can Ketamine help Treat Post-Herpetic Neuralgia?
Since no single treatment is effective in relieving the pain of postherpetic neuralgia (PHN), current treatment guidelines emphasize the use of a mix of treatments. In addition, many individuals are unable to benefit from the wide variety of therapy choices for nerve pain, while others are ineligible.
Surgery, physical therapy, nerve blocks, and pharmaceuticals such antidepressants, anti-seizure drugs, narcotic pain killers, and topical analgesics are some of the conventional methods used to alleviate the suffering caused by PHN-related nerve pain. Some people with PHN may not respond to these treatments, while others may be unable to use specific drugs because of contraindications.
We suggest ketamine therapy for people with post-herpetic neuralgia who are looking for non-invasive pain relief. Ketamine is commonly used to treat complex regional pain syndrome type 1 (CRPS-1) and other forms of chronic pain with a neuropathic component, such as neuropathic pain and post-herpetic neuralgia caused by peripheral nerve injury.
Infusions of ketamine to treat neuropathic pain bind to and inhibit N-methyl-D-aspartate (NMDA) receptors, preventing these cells from communicating with other parts of the brain and allowing the brain to repair connections severed by shingles and PHN. Ketamine infusions can be used in concert with other drugs to craft individualized treatment plans that take into account each person's specific brain and body chemistry.
Find a Ketamine Therapy Clinic Near Me
If you or a loved one have been diagnosed with post-herpetic neuralgia in Florida and are interested in how ketamine may be able to help you, take our qualification survey and schedule an appointment today!
Side-Effects of Ketamine
According to the Alcohol and Drug Foundation, the following have been reported as side-effects associated with ketamine therapy. You should contact your doctor if you experience any of the following:
Decreased sensitivity to pain

Nausea

Anxiety or panic
Increased heart rate

Increased blood pressure

Confusion
Feelings of joy

Feeling "

detached

" from your body

Hallucinations

Decreased sensitivity to pain

Nausea

Anxiety or panic

Increased heart rate

Increased blood pressure

Confusion
"*" indicates required fields