Treating Anxiety with Ketamine
What is Anxiety?
At some point in their life, every individual will experience anxiety over a stressful situation. Many signs of anxiety, such as nervousness, worry, and fear, are expected and normal biological reactions which can occur until the situation or stressor passes. However, if your symptoms become persistent, overwhelming, or interfere with daily life even when a stressor isn't present, you may have an anxiety disorder.
Anxiety disorders are the most prevalent mental health condition in the United States, affecting about 31.1 percent of American adults in their lifetime.
Symptoms of Anxiety
Individuals tend to experience anxiety in different ways. Furthermore, the trigger or source of the anxiety can also impact the symptoms experienced. While most symptoms are dependent on which anxiety disorder a patient suffers from, the common symptoms of anxiety include: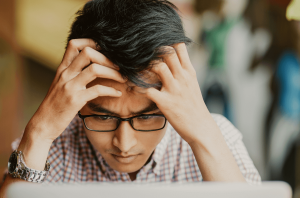 Panic
Fear
Stress
Trouble sleeping
Cold, sweaty, or numb hands/feet
Difficulty breathing
Racing heartbeat
Dizziness
Nausea
Difficulty concentrating
Obsessing over a situation or trigger
Muscle tension
Panic
Fear
Stress
Trouble sleeping
Cold, sweaty, or numb hands/feet
Difficulty breathing
Racing heartbeat
Dizziness
Nausea
Difficulty concentrating
Obsessing over a situation or trigger
Muscle tension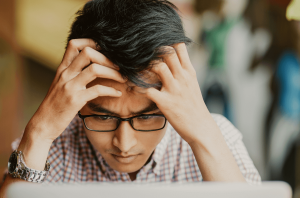 Different Types of Anxiety Disorders
Types of anxiety disorders include phobias, panic disorder, generalized anxiety disorder, social anxiety disorder, phobias, and separation anxiety disorder, among others.
According to the National Institute of Mental Health the more common types of anxiety are:
You'll likely experience excessive worry in the form of rumination, or spending time excessively thinking or mulling over different events in the future — how they may play out and how you may deal with them.
Also referred to as social phobia, this is a fear of being embarrassed, humiliated, or unduly criticized in a public setting like school or work. You may have trouble talking to people or being in a large group, or feel the need to avoid crowds and public spaces altogether.
Panic disorder is characterized by recurring, unexpected panic attacks with physical symptoms like chest pain, shortness of breath, sweating, shaking, and dizziness. They also may involve feeling dissociated from reality or having a sense of impending doom.
Phobias involve an irrational, overwhelming, and excessive fear of a place, situation, or object. Some of the more common phobias include acrophobia (fear of heights), claustrophobia (fear of tight spaces), aerophobia (fear of flying), hemophobia (fear of blood), trypanophobia (fear of needles), and hydrophobia (fear of water).

Agoraphobia often occurs in response to panic attacks. If you have agoraphobia, you feel extreme fear or anxiety about having a panic attack or fear that something bad may happen in a specific place — usually outside the home. You'll often avoid feared places and situations at all costs, to minimize the possibility of something bad happening where you can't access support or help.
Separation anxiety disorder
Separation anxiety disorder is most commonly diagnosed in children, but adults can also experience this extreme fear of something tragic happening to a person in their life. Typically affected children experience symptoms when separated from a parent or loved one, whereas adults may experience that fear and overwhelming worry even when they're together with the friend or loved one.
Some mental health conditions including OCD and PTSD are commonly referred to as anxiety disorders and may have once been classified as such, but now have a separate diagnostic category in the DSM-5.
Causes of Anxiety Disorders
While some anxiety disorders occur due to traumatic situations, there are numerous other reasons why someone may suffer from anxiety, including, but not limited to: genetics, brain chemistry, one's environment, drug abuse, and other medical conditions.
If you or a loved one suffers from anxiety, contact an experienced Florida ketamine doctor today and see if ketamine can help you!
What is Ketamine?
Ketamine, an FDA approved drug for general anesthesia, has been shown in off-label trials to provide significant antidepressant benefits to patients utilizing Ketamine IV Therapy. This therapy uses doses lower than those used in anesthesia infused over 50 minutes to provide the potential for lasting improvement of depressive symptoms. 
Ketamine and Anxiety
How does it work?
Evidence points to the role of glutamate, a prominent neurotransmitter, in playing a large role in stress response and the formation of traumatic memories. Ketamine is an antagonist of the receptor that glutamate affects. Its antidepressant and anti-anxiety effects are presumed to occur by activating synaptic plasticity by increasing brain-derived neurotrophic factor translation and secretion,  by inhibiting glycogen synthase kinase-3 and activating mammalian target of rapamycin signaling.
BDNF (brain derived neurotrophic factor) plays a role in behavioral responses to antidepressant drugs. However, the impact on synaptic plasticity may take several weeks to manifest with traditional antidepressant medications. With ketamine, synaptic plasticity changes appear to occur within a matter of hours after administration.
How can ketamine help treat anxiety?
While there are numerous treatments for anxiety disorders, few offer the rapid relief reported with ketamine infusions. In fact, some patients have reported tremendous relief from their overwhelming anxiety in under 24-hours. 
More and more patients are reporting outstanding levels of relief through ketamine infusion treatments for anxiety. In studies, ketamine has been shown to act as a strong relief for patients suffering from anxiety disorders. Especially in the first 2-weeks preceding a ketamine infusion therapy treatment, patients have reported a tremendously reduced sense of anxiety.
Side-Effects of Ketamine
According to the Alcohol and Drug Foundation, the following have been reported as side-effects associated with ketamine therapy. You should contact your doctor if you experience any of the following:
Decreased sensitivity to pain

Nausea

Anxiety or panic
Increased heart rate

Increased blood pressure

Confusion
Feelings of joy

Feeling "

detached

" from your body

Hallucinations

Decreased sensitivity to pain

Nausea

Anxiety or panic

Increased heart rate

Increased blood pressure

Confusion